Anja Osswald and some friends from Berlin founded an association called I-KU (Institut zur Entwicklung des ländlichen KulturRaums) in Baruth-Mark, a small town located 50km in the south of Berlin. There, up a hill, they started producing wine.
Anja occasionally organizes events at the house on the hill to promote local produce and sustainable organic agriculture. When we met to develop the food concept for her event Maden & Nomaden (maggot-no maggot), we immediately developed an understanding. We both love the countryside, nature, good wine, healthy food and art as the link between these components. The idea was to organise a four-course dinner and invite four experts who would share their work with guests to explore the theme of the future of food and what we will be eating in the coming years.
The first speaker was Heinrich Katz, founder of the company Hermetia, the biggest black soldier fly farm in Germany. The black soldier fly – Hermetia illucens – is a promising source for sustainable production of proteins, lipids and bioactive substances.
Then came my turn. I spoke about my work with Mikrokosmos and introduced the menu I had the honour to plan for the evening.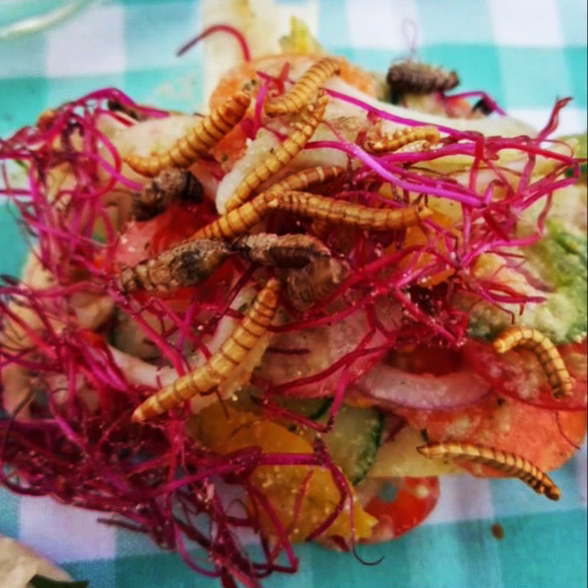 Artist Uli Westphal presented his project "Essen im Homogenosaen" (homogenous food). An art piece developed around how world globalization and industrialization is influencing and transforming our food.
Carolin Schulze was the final speaker of the evening. She studies the current permutation of meat in our culture. In her work, "Falscher Hase" (the fake hare), she used 3D printing to symbolise this evolution. She printed different models that change shape from a hare to a grasshopper. She is currently reinventing the ancient art of food fermentation with a tool kit that she developed herself.
Each dish that I planned for the evening was connected to the topics raised by the speakers. My aim was for the guests to have fun with insects instead of being scared of them:
I started by serving a pea soup with two types of larvae croutons for guests to choose from: bee and black soldier fly. This was served with a grasshopper skewer and a crunchy cracker made with black soldier fly flour.
Then came a fresh mixed salad with hummus, clarified butter with crickets and rose petals, a mix of toasted insects and our "pan grillo", bread homemade with cricket flour.
This turn was followed by polenta with mushrooms cooked in olive oil, parsley and garlic and topped with flour worms roasted in butter and sage. The dish represents the town where I was born. We traditionally cook it with hare but for this occasion we used worms instead. I choose this plate because for me, it precisely represented the evolution discussed by Carolin.
To round things off, I caramelised insects with apples and cinnamon in a whipped cream semi-frozen dessert paired with a special toffee cream.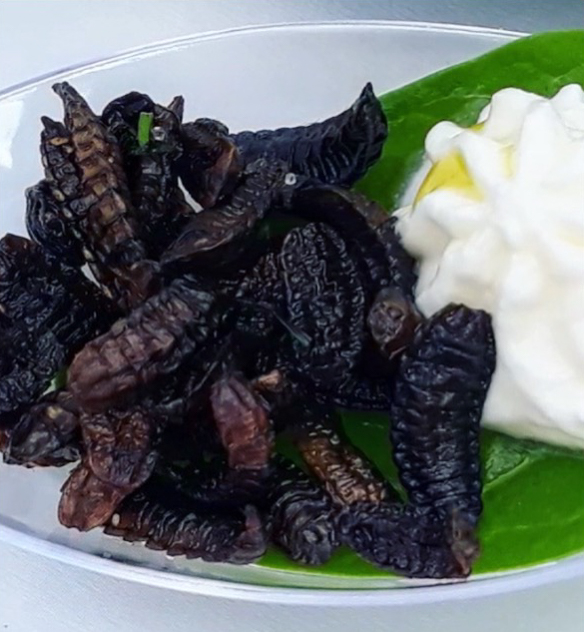 All the guests were delighted with the experience at the end of the evening. Anja and I were very pleased with brave they had been, having eaten so many insects without any complaints. They understood the potential and importance of these little creatures and enjoyed them.